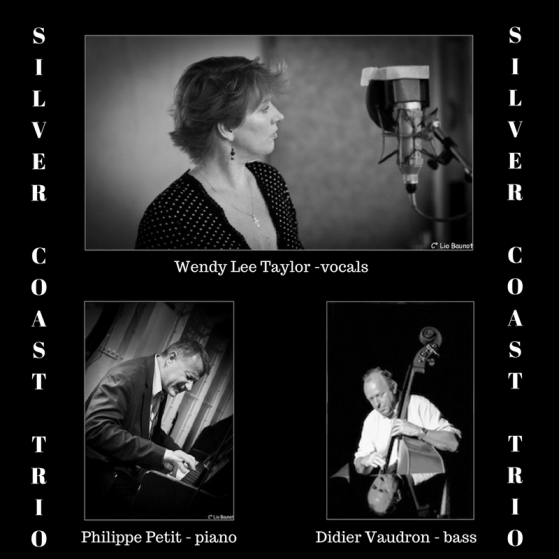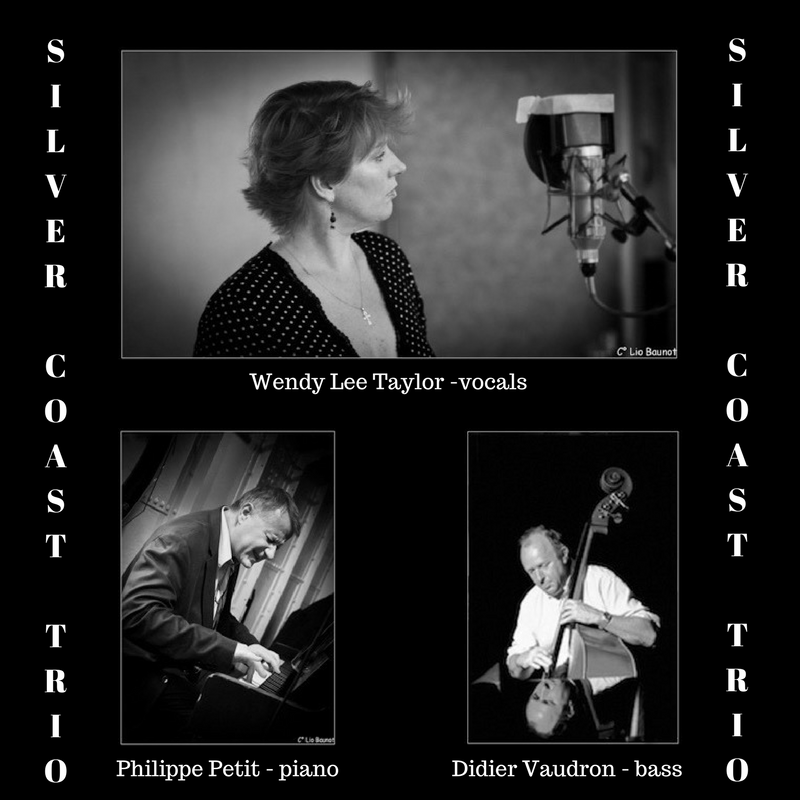 Jazz is timeless and universal… Thus, it is played and heard in all corners of the world, and the Silver Coast (Cote d'Argent) of France is no exception: in fact, it provides the perfect setting for elegant and convivial jazz!
The Silver Coast Trio is all of that and more, as it's based on a friendship and complicity of over 30 years between pianist Philippe Petit and double bassist Didier Vaudron, a collusion that could not avoid seducing the Australian singer and tap dancer Wendy Lee Taylor, soloist at the Lido de Paris for 15 years.
The musical style of the Silver Coast Trio is influenced by the great tradition of Jazz, covering numerous epochs and styles, expressed through inevitable standards, composed by greats such as Cole Porter, Gershwin, and amplified by the renowned interpretations of greats such as Ella Fitzgerald, Nina Simone, Frank Sinatra and Fred Astaire…
The trio can adapt easily to differing situations from the cosy atmosphere of a hotel bar or a restaurant, to a concert hall.   For major events or when the nature of the event requires, the trio can easily include a drummer, at which point it becomes The Silver Coast Quartet!
Wendy Lee Taylor (vocals & tap)
Born in Melbourne (Australia), Wendy Lee Taylor was enchanted by musical theatre.
From five years old, she started dancing classes, and quickly started learning songs from the standards repertoire including titles by Cole Porter, George Gershwin or Irving Berlin, to site just a few… It was as a dancer, then as a singer that this tall Australian debuted her Parisian career at the famous Parisian Cabaret "Le Lido" where performed initially as a dancer, then later as a singer , 6 nights a week, for fifteen years.
During this time, she also performed in Parisian jazz clubs and festivals around France, she has recorded three albums the last "Remembering Fred Astaire" soon to be released.  She regularly performs with her quartet, as well as with the Caveau de la Huchette touring show "Tribute to La La Land"
With Wendy, charm and swing unite, in keeping with the tradition of the great jazz vocalists.
Philippe Petit (piano/Hammond organ)
Born in Bordeaux, France, Philippe Petit moved to Paris in 1977 where he was signed by Barclay Studios as a singer / song writer and pianist.  He become known on the local jazz scene playing in the majority of the capital's jazz clubs ((Petit Opportun, Jazz Club Lionel Hampton, Caveau de la Huchette, Le Bilboquet, Duc des Lombards, Sunset-Sunside etc)
Accomplished all-round pianist and organist, Philippe Petit is a continuing presence on both national and international jazz scenes, having performed throughout the world (Europe, United States, Africa, Asia, Australia, South America…)
Over the years he has accompanied artists numerous soloists including Arnett Cobb, Bud Shank, Scott Hamilton, Houston Person, Eric Alexander, Dany Doriz, Marc Fosset, and of course the Silver Coast Trio!
Didier Vaudron (Double Bass)
After his Parisian debut, Didier Vaudron joined Philippe Petit and Francis Bourrec to form the group Ananda.  He also played in quintet with Denis Leloup and Antoine Illouz and toured with Louisiana Red (New Morning, etc)
He moved to Bordeaux in the eighties.  An accomplished side man, he has accompanied Georges Arvanitas, Hal Singer, Guy Laffitte, Marcel Zanini, ClaudeGuillot, Philippe Leoget, François Faure etc…  He has performed on many regional stages including the Marciac Jazz Festival  with Philippe Léoget and Richard Hertel…
This list only includes concerts for the project "Silver Coast Trio".  For a complete list of upcoming events for all Wendy's projects, please consult the main events page of this website.